About Us
Creating healthy families, one spine at a time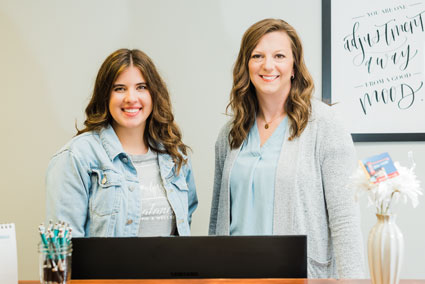 Savannah – Front Desk Coordinator and Dr. Jen – Owner/Chiropractor
After graduating from Palmer in Davenport in 2004, Dr. Jennifer Thompson was an associate doctor for about three and a half years. Then in early 2008, Dr. Jen decided that she wanted to open her own practice.
Dr. Jen and her family moved to Ankeny, and she opened Balance Chiropractic & Wellness in June of 2008. After working in Windsor Heights for 12 years, she relocated her clinic to Des Moines, where she and her family live. "It was time for my practice to be closer to support the community that my kids are growing up in," said Dr. Jen.
Keeping Families Healthy
As a mom, Dr. Jen loves to see entire families come in for care. While we may begin seeing just Mom or just a child in the beginning, through the education we provide and their experience in our office, most of the time, we start seeing every member of the family!
Chiropractic care can keep your entire family healthier. You may find that your family doesn't get sick as often, you have more energy and just feel great!
Providing Customized Care
If you've been to other chiropractic offices and received cookie-cutter care, that's not the case here. Instead, we focus on each patient and their particular goals. Then we create customized care based on those goals. Just as no two patients are precisely alike, no two care plans are either.
MEET DR. JEN
Helping Our Youngest Patients
Getting children off to the healthiest start in life is one of our greatest passions. We often see babies struggling with their latch or having difficulty breastfeeding. Some of these infants spit up a lot or are fussy and gassy. When we correct those misalignments that are producing these symptoms, we see them latch and feed better and the bond between the parent and the baby improves. Then everyone is happy!
Get Started Today
Take that first step toward better health. Contact our chiropractic office to schedule an appointment!
---
About Balance Chiropractic & Wellness | (515) 255-5330